Bucks County Estate Planning Council
Bucks County, Pennsylvania
Administrative offices:
P.O. Box 9014, Collingswood, NJ 08108
WELCOME to Bucks County's PREMIER Organization for ESTATE PLANNING PROFESSIONALS!
Our mission is to advance the knowledge and ethical standards of estate planning in Bucks County and to develop collegiality among estate planning professionals.
Membership is open to anyone with an interest in Estate Planning.
Many of our members are attorneys, CPAs and financial planners; however, included in our membership are appraisers, auction houses, elder care services, government officials and other professionals who assist in Estate Planning. The annual investment for new or returning members is $100 for an individual or $200 for a firm and the first member, additional firm members are $50.
Our program year runs from September 2022 to May 2023. Since we are still adapting to the covid issues, please be sure to note the times and dates of the meetings. The Board has listened to our members, and we have tried to accomodate as many as we could. Some wanted virtual, some dinner, and some lunch, and breakfast! Many of our meetings this year will be breakfast meetings, as that seems to be the preference for most people. Please note that our in-person meetings will now be held at The Bucks Club, 2600 York Road in Jamison. Our meetings feature continuing education credits in the form of CLE for attorneys, CPE for CPAs and CE for CFPs.
We have a wonderful and varied calendar of speakers presented below. Would you please consider sponsoring an event? If you are interested please email bcepc@bowermanagementservices.com and Abby will assist you. Additionally, we added a handful of new members and would like to add more, so, please consider colleagues in your firm or other professionals whom you know. I eagerly look forward to seeing you in person!
Richard L. Newman, Esquire- BCEPC 2022-2023 Presdent
BCEPC 2022-2023 Program and Events Calendar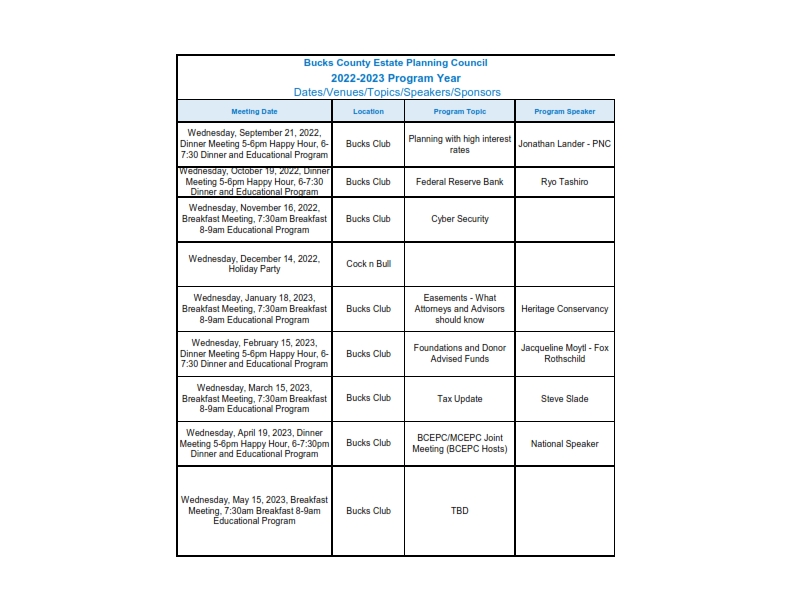 ---
Bucks County Estate Planning Council is affiliated with the National Association of Estate Planners & Councils and joining can fulfill the requirement of belonging to an affiliated local estate planning council to become an Accredited Estate Planner® (AEP®) designee. Please contact the national office at 866-226-2224 to learn more about the Accredited Estate Planner® designation.